Fins are an essential part of bodyboarding or bodysurfing, and choosing the right fins can be a daunting task. Back in the 70's we used to use what they called UDT Duck Feet fins from a company called Swimaster. These UDT fins were used by the Navy SEALS and the Underwater Demolition Teams at the time because they provided a lot of thrust.
These fins were invented by Arthur H. Brown, an expert diver and inventor. In the beginning, Churchill Swim Fins were the only option for increased propulsion. Arthur imagined a fin that floated and provided more thrust. These fins would also be symmetrical, a stark contrast to the Churchill Fins.
The very first fins that Brown produced looked very much like the Duck Feet Fins that bodyboarders and bodysurfers know and love today. They were produced under the name "The Spearfisherman Co.", along with a line of other diving and swim-related products.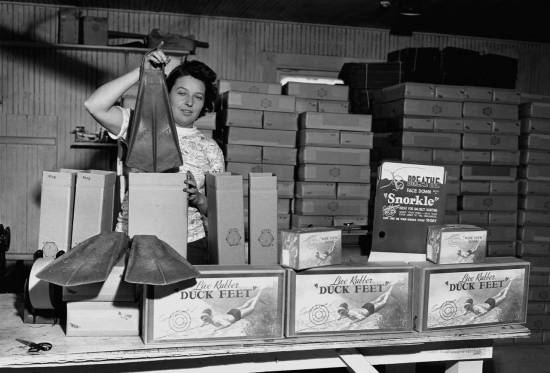 Brown authored an article for Skin Diver Magazine in which he details the process of manufacturing his rubber fins. He describes turning raw Malaysian or Indonesian rubber into vulcanized floating diving fins. Vulcanization is the process of chemically treating and compressing raw rubber in order to produce useful rubber products. In the early 1800's, Charles Goodyear would invent the Vulcanization process, and nearly a century later Arthur Brown would revolutionize this process to make the most powerful swim fin to date.
After a while, many people were using Arthur Brown's Duck Feet fins. The Naval Underwater Demolition Team (UDT) divers were even using them. Spearfisherman produced a line of fins specially designed for the UDT. They were way longer and stiffer than the original Duck Feet. The Navy went out to test 14 different commercially available diving fins in an attempt to narrow down the best performing fin. Regular Duck Feet and the giant UDT Duck Feet were both in the comparison. The end results were mixed, but Brown would go on to claim that most UDT divers in the Pacific preferred his fins over the rest. Historical photographs seem to support his claim: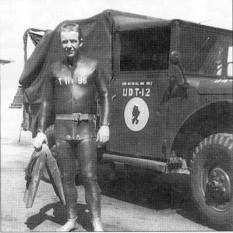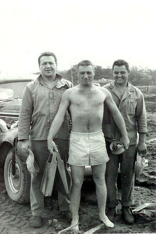 Despite Brown's numerous manufacturing achievements, he was unable to make Spearfisherman Co. a profitable business. In February of 1957, Ken Noris's Pacific Moulded Product Co. purchased Spearfisherman Co. as well as all of Arthur Browns manufacturing innovations. Pacific Moulded Product Co. had acquired the company Swimaster previously, and continued to manufacture the Duck Feet under the Swimaster name. There were a few ads that featured the UDT Duck Feet with the Swimaster brand.
In 1962, VOIT merged with Swimaster, and VOIT would eventually take over the marketing of Duck Feet, while the Swimaster engineers focused on expanding manufacturing to keep up with demand. VOIT would continue producing the Duck Feet brand to this day. You might also see some fins with AMF stamped on them, which stands for VOITS parent company, American Machine and Foundry.
Over the years, VOIT made a few modifications to the Custom Model mold, which eventually would become synonymous with "Duck Feet". The UDT model was moved around, and the mold was lost and eventually resurfaced in Mexico.
We loved the power these fins gave us, and to us there was no other fin in the water that could compare. I still have a pair of these fins to this day, and love them every bit as much as I did back in the day.
If you are interested in buying a pair, search for "VOIT UDT DuckFeet" and you should be able to find them online for a reasonable price. The regular "DuckFeet" are pretty cool too.